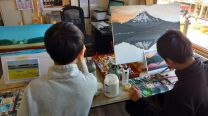 The place to learn art for beginners and self-taught artists who want to take their skill to the next level.
Simon teaches 101 and is a consultant with Self-Design Learning Community, one of the largest distance learning schools in BC. Learn how to observe, draw accurately, and understand perspective and proportion.
Practice painting techniques using Oil Pastel, Watercolour, Acrylic & Water soluble Oil Paint.