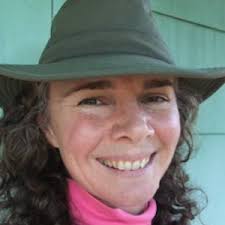 Jillian is an experienced international permaculture teacher, eco community facilitator, regenerative systems designer. She works creatively and collaboratively with others, applying whole systems design principles to a wide range of projects: from urban balconies, through natural buildings designed as organisms, with frequent work at the whole community scale.
Jillian founded the Sustainable Living Network in Toronto, Canada in 1999 and is its Executive Director. Jillian was formerly a director the Ecovillage Network of The Americas and the Ecovillage Training Center at The Farm in Tennessee, and was involved in the first years of forming the Ecovillage Network of Canada. She has served on a number of committees of Council for the City of Guelph, and affected positive change towards sustainable planning which has positively directed over a billion dollars of development.
Jillian holds a B.Sc. in Agriculture from the University of Guelph, and is at the end of a Masters programme in Environmental Design from York University. She received her Permaculture Design Certificate  in 1996, and continually pursues a wide range of trainings as part of her commitment to developing self-awareness and skills that deepen her practice as a facilitator, teacher, and guide.
Jillian designs and delivers high quality learning in regenerative systems design (which can also be understood as Permaculture and/or Ecovillage design). She has 25 years of experience, and is a gifted teacher with sharp and integrated processing abilities who is known for her deeply attentive and grounded facilitation skills. Jillian has facilitated and taught at, and helped to organize, over 200 eco events and conferences, across five continents, including some of the first offering of Ecovillage Design courses in North America. Jillian has also taught at formal academic institutions such as the College of Environmental Design, UC Berkeley, and she has also designed and led programs at alternative institutions such as Yestermorrow Design/Build School in Vermont, and the Ecosa Institute for Regenerative Ecological Design in Arizona.
In her programming, Jillian supports people in coming to greater awareness of the 'natural' world, as well as human ecologies. She believes that knowledge of the often "invisible landscapes" of human ecology, and growing an understanding of self and "other" is key to the global shift to more sustainable consciousness and practices. This wholistic approach is leading edge and much-desired internationally, and has touched and inspired people in Canada, the United States, Central America, Europe, the Middle East, Africa, India, Australia, and New Zealand.
Jillian also uses her gifts of 'whole systems seeing' in coaching and facilitation practices and as well as teaching and design work. She has been coaching and mentoring people for almost 20 years, where she holds space for deeply transformative processes with individuals and groups. Jillian has been mentoring the next generation on five continents, and has also been asked to develop training for other facilitators and leaders, as an extension of her teaching, coaching, and mentorship work. She also has ties to Native American communities, and is now returning to North America to support the next stage of emergence of re-connecting with native teachings.